Shopping at Buderim Yoga
"Your Heart Space"
Yoga Nidra Relaxation CD
Available Now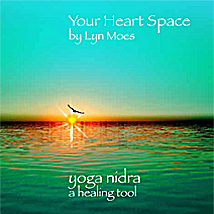 Lyn Moes is a Yoga Teacher who has been practicing for 33 years and teaching since 1982.
She takes you on a journey of deep relaxation in her latest Yoga Nidra CD, "Your Heart Space". Lyn will connect you to a deep inner place of peace and happiness.

What is Yoga Nidra?
Yoga Nidra is a spoken guided imagery exercise, used to heal. As Lyn gently talks to each part of your body, from the souls of your feet to the very top of your head and encourages it to relax, your body slowly starts to give in. As your body relaxes it establishes harmony and well being throughout the entire system.
Regular practice with this CD will greatly reduce the physical and mental tensions brought about by modern life.
Yoga Nidra has been experienced as the most powerful relaxation technique known to man.
Y oga Nidra is a creative source of healing in a spiritual way.

This is the 2nd CD in an upcoming series that Lyn has been developing throughout her practice.
On sale now for $20 plus postage and handling.
Gift Vouchers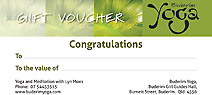 Give a Gift Voucher this Christmas to someone you care for.
For more information or to purchase, please contact Lyn.
Yoga Mats
Lyn provides items for sale to encourage the Yoga Student to be self sufficient in their own practice. They are available at the classes or you can contact Lyn
Sticky Purple Yoga Mats     =   $45.00 Thick
---
Purple Blocks                      =    $20.00
---
Purple Straps                       =   $12.00