MEDITATION CLASSES:
TERM 2 DATES FOR 2018:
There is one Meditation Class per week, with a group, for the Term. Lyn also teaches PRIVATE CLASSES
Term 2:   11 weeks   Term Fee – $200.00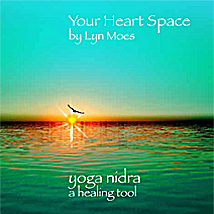 This CD is available at
the shop
or from Lyn.
| DAY | TIME | DATE |
| --- | --- | --- |
| Monday | 7.40pm – 8.40pm | 16th April FREE CLASS |
| Monday | 7.40pm – 8.40pm | 16th January to 25th June |
Term Fees only for Meditation Classes
Lyn has been teaching meditation classes for many years now with great success.
BOOKINGS ARE ESSENTIAL
Meditation classes will be held after Hatha Yoga Classes
Buderim Girl Guides Hall
Contact Lyn to book in.

Everyone is welcome to join any of the classes.

Click here for an article on Yoga Nidra by Lyn.
Thoughts on Meditation by Lyn Moes
Years ago I thought someone that meditated on a regular basis was a bit "out there" now I could not imagine a day going by without having a meditation. After many years of going deeper into my Hatha Yoga practice it seems a natural occurrence to have a yearning for discovering the higher component of yourself.
I studied with the Self Realization Fellowship for many years and now have knowledge of Kriya Yoga which is like Raj Yoga. These names are all to do with the path of Meditation. www.selfrealizationfellowship.com Kriya Yoga is a technique that Paramahansa Yogananda commenced. He is famous for being the 1st Indian Guru to bring Yoga to the Western World. There are many types of meditation. TM is one you might have heard about (Transcendental Meditation) from another guru Mararishi Mahesh Yogi. It really does not matter which path you follow as long as you begin to Meditate. Soon you will discover the technique suitable for you, if you so desire.
Wayne Dwyer "Real Magic" says (read p98 to p105)
"Meditation gives you an opportunity to come to know your invisible self. It allows you to empty yourself of the endless hyperactivity of your mind, and to attain calmness. It teaches you to be peaceful, to remove stress, to receive answers where confusion previously reigned, to slow yourself down and ultimately, when you adopt meditation as a way of life, to be able to go to that peaceful place anytime. I do mean anytime. In the middle of a business meeting, in the midst of a tragedy, during an athletic competition…anytime! Meditation can and will help you become your own miracle worker and come to know the meaning of real magic."
He also says
"After meditating I feel centered and focused and relate to others seeing the fullness of the Divine in them. I automatically eat better, make healthier choices, drink more water, exercise more and feel more generous, more forgiving, less stressful and less fatigued. I really cannot emphasize enough how valuable the practice of meditation is for me."
In "The Three Pillars of Zen" Phillip Kapleau summarized what you can receive from the commitment to the exercise of meditation.
"For the ordinary man, whose mind is a checkerboard of crisscrossing reflections, opinions, and prejudices, bare attention is virtually impossible; his life is thus centered not in reality itself but in his ideas of it. By focusing the mind wholly on each object and every action, zazen (meditation) strips it of extraneous thoughts and allows us to enter into a full rapport with life."
Yes! You will truly move from ideas about your life to experiencing your purpose here, your heroic life mission.
Another way of saying this was offered by Taisen Deshimaru: "If you have a glass full of liquid you can discourse forever on its qualities, discuss whether it is cold, warm, whether it is really and truly composed of H2O, or even mineral water, or sake. Meditation is drinking it!"
There is much to be said about meditation. However, I challenge you to stop reading and join a guided meditation group. See my times written on the section "Classes" on this web site. I intend to spend many hours teaching Meditation this year and would love you to join me. Don't hesitate to phone me for a chat about Meditation.